Stormy Kicker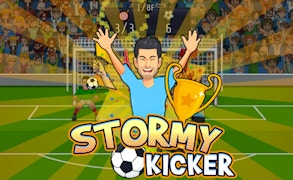 Stormy Kicker
If you're an ardent fan of football games, then Stormy Kicker, one of the finest entries in the realm of soccer games, is a must-try for you. It isn't just a game, it's a clarion call to all those who have harbored dreams of leading their team to the coveted World Cup title.
In this riveting simulation, you aren't just a player on the pitch; you are the striker everyone's hoping will score that decisive goal. The gameplay, blessed with an elegant simplicity, requires nothing more than a well-timed tap to send the ball sailing into the back of the net. But don't let this apparent simplicity fool you.
Just as is true with any great football games or other prominent ball games, mastering Stormy Kicker is by no means an easy task. The entire game hinges on that one-touch mechanism, making it a test of nerves, timing, and strategic intuition. Every game is different from the last as various parameters such as wind speed and direction are constantly changing thus requiring players to continually adapt and tweak their strategies.
The graphics and sound effects enrich the overall experience, capturing that electrifying atmosphere we so associate with grand football events. Each successful strike triggers a wave of exhilarating cheers from the crowd, which triumphantly captures that adrenaline-rush experienced by real-world strikers.
In essence, Stormy Kicker serves as a potent reminder of what makes soccer games so compelling – unparalleled excitement coupled with strategic depth. It forces players into assuming full responsibility for their team's fortunes while providing room for skill development and tactical refinement.
If you've ever fancied yourself as World Cup-worthy material in football games, Stormy Kicker offers an irresistible opportunity to put your mettle to test.
What are the best online games?