Stickman Warrior Fatality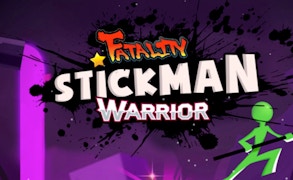 Stickman Warrior Fatality
Step into the chaotic world of Stickman Warrior Fatality, a captivating contribution to the exciting genre of stickman games. Pairing fighting game mechanics with the simplified, yet engaging, aesthetics of stickman universe, this compelling battle game offers an energized gaming experience for both novices and veteran gamers.
The game thrusts you in the heart of adrenaline-pumping action. Control your fearless stickman as he punches and kicks against hordes of enemies through countless thrilling levels. The combative gameplay design presents a refreshingly raw, yet sophisticated scope in the array of battle games.
Players will appreciate Stickman Warrior Fatality's smartly executed clicker game elements. With intuitive controls, you can execute incredible stunts and powerful blows that not only look fantastic but also add a satisfying punch to your victories. Just a tap or click away is all it takes to unleash your stickman's violent potential - making it one of the most gripping clicker games on the market.
A unique feature that sets Stickman Warrior Fatality apart from conventional fighting games is its use of realistic physics – making every punch, kick and epic face-off feel intensely real. This hardcore gameplay element is interspersed with opportunities to collect stars and purchase deadly weapons - adding layers of strategy and progression that will keep you hooked.
In conclusion, if you're on the hunt for a visceral gaming experience that blends simplistic design with hardcore battle elements, then Stickman Warrior Fatality is a must-try. Its blend of fast-paced fighting sequences, engaging physics-based gameplay, combined with intuitive clicker-style controls makes it stand out in the realm of stickman and battle games.
What are the best online games?