Stickman Police VS Gangsters Street Fight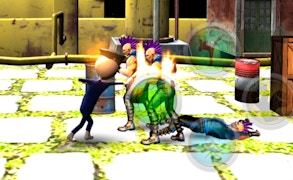 Stickman Police VS Gangsters Street Fight
If you're a fan of stickman games, boxing games, or intense battle games, then prepare your fingers for the relentless action brought by 'Stickman Police VS Gangsters Street Fight'. This game pits you as a brave stickman police hero against the turbulent tide of gangster city mafia, combining elements of gangster games and police games in a thrilling blend.
In this adrenaline-fueled adventure, you are not just a typical stickman. Instead, you're an unstoppable force of justice, squaring off against rebellious criminals in a myriad of fierce and fast-paced battles. The game paints vivid skirmishes on the city roads and within the claustrophobic prison confines as you don your virtual badge and take on your sworn enemies.
The game excellently brings to life the world of the urban jungle fraught with lawlessness. The criminals aren't cartoony pushovers - they are stickman gangster city mafia members and stickman prisoner criminals who have no qualms in escaping from US prisons. As such, they demand from you an exceptional display of your US Police Stickman fighting prowess.
'Stickman Police VS Gangsters Street Fight' excels in its gameplay mechanics that allow for exhilarating boxing-style confrontations. Packed with special powers, our police stickman hero is anything but mundane. This game turns ordinary punch and kick commands into dramatic, powerful bouts that leave you at the edge of your seat.
In conclusion, this exciting amalgamation of action-packed stickman games and intense police vs gangster battles provides a unique gaming experience that will leave any ardent gamer clamouring for more. Explore this underworld saga as you bring law back to chaos one battle at a time.
This game is not just about playing it - it's about living through an interactive story where every punch counts!
What are the best online games?