Stickman Fights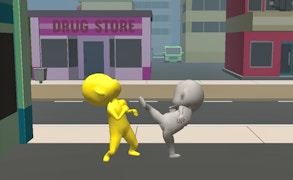 Stickman Fights
Embark on an incredible journey into the world of battle games with Stickman Fights, an ultimate showdown powered by kukogames. The game captures the thrilling experience of street fighting, with our beloved little stickmans at the helm, eager to seize the title of number one street fighter.
The premise of this epic encounter is uniquely intriguing. Stickman Fights pivots on duels amongst fierce stickmen determined to establish their supremacy in strength. The signature style of stickman games - raw, intense, and action-packed - is beautifully encapsulated in Stickman Fights. A true nod to masculinity, this game is all about the mightiest amongst the lot.
The gameplay immerses you in an online battle against your opponent with a promising cash prize lying at the end of each victory. The thrilling aspect here lies in your betting abilities. The higher you bet, the bigger the reward, amplifying your adrenaline rush as you fight.
A notable feature that sets Stickman Fights apart from other battle games is its customisation aspect - for every dollar earned from your hard-fought victories, you can purchase new skins to adorn your fighter. Stand out not just with your fighting prowess but also your distinctive style.
Last but not least, Stickman Fights delivers an engaging online experience encapsulating everything we love about stickmen and fighting games: energy, excitement and good old brawling. Turn your opponents into mincemeat and rise up as the ultimate fighter in this brutal yet addictive battle arena.
Celebrating combat like never before, play Stickman Fights Online today and immerse yourself in a riveting brawl fest that's sure to keep you hooked!
What are the best online games?