Stickman Fighter: Space War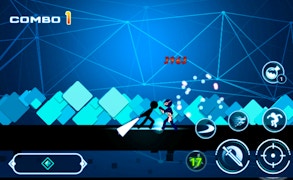 Stickman Fighter: Space War
Have you ever dreamt of ruling the Stickman Legend village, commanding your squad with a sword to engage in intense battle games against an extraterrestrial onslaught? That's exactly the high-octane experience you get with Stickman Fighter: Space War – an out-of-this-world addition to the esteemed genre of stickman games.
The game plunges you headfirst into a thrumming battlefield where it's either kill or be killed. Certainly, this is not just another game in the roster of sword games; it's about strategic planning, skill upgrades, and timely use of special powers accessed through your mouse inputs. Adventure awaits those worthy enough to utilize their WASD or arrow keys to maneuver around the battle arena.
As you delve deeper into Stickman Fighter: Space War, it becomes clear that this is more than your typical stickman games. With each conquest of the evil forces from space, rewards pour in form of money and power-ups for character development and arsenal expansion. Thrilling excitement courses through every battle as you bankroll your war efforts and upskill your stickman to meet new challenges head-on.
In summary, Stickman Fighter: Space War offers an enthralling gaming experience that redefines the genre of battle games. It combines frenetic action with strategic gaming by featuring a diverse selection of weapons and skill upgrades to keep gamers on tenterhooks. Whether you're a die-hard fan of sword games or stickman games or both, spend some quality time with Stickman Fighter: Space War. You will quickly find yourself lost in its electrifying gameplay and responsive controls.
What are the best online games?