Stickman Army: The Defenders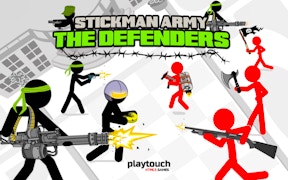 Stickman Army: The Defenders
Welcome to the ultimate test of might and strategy that takes the popular stickman games genre to exhilarating new heights. Allow me to introduce you to a thrilling ride of action and thrill, known as Stickman Army: The Defenders. A gripping storyline, compelling gameplay, and nerve-wracking strategic decisions lie at the heart of this potent blend of war games, gun games, and battle games.
The narrative drops you into a dire situation – you are the best army strategist tasked with defending your country against a nefarious horde of revolutionary renegade stickmen. These dastardly invaders are attacking institutions and killing innocent citizens. You represent the last hope, the final bastion standing between anarchy and civil order.
Stickman Army: The Defenders seamlessly integrates strategic thinking into its vibrant action sequences. As the commander of a powerful army capable of halting these revolutionaries, every decision you make has impactful consequences. Your mission? End this rampant civil war.
This is not just another bout in the arena or a skirmish on a battlefield; this is an epic battle for survival and supremacy. The game compels you to defend your institutions with unwavering resolve - failure is simply not an option! Feel the adrenaline spike as you guide your units towards that final victory.
In conclusion, Stickman Army: The Defenders manages to deliver a visceral war game experience that effortlessly combines strategy with action-packed gameplay reminiscent of classic stickman, gun and battle games. Step into this heart-pounding adventure today – only you can secure your nation's freedom!
What are the best online games?