Stick War Adventure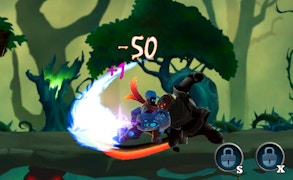 Stick War Adventure
Step into the ultimate battleground with Stick War Adventure, one of the most vibrant and intense stickman games that takes the genre of sword games and battle games to new heights. This is not just a war game, it's a battle of survival against menacing monsters, where your strategy and agility determine the course of your journey.
In this riveting game, each level presents stronger enemies, demanding creative tactics and combat readiness. Your main weapon is not only your sword but also your ability to adroitly manoeuvre your stick figure hero around the battlefield. It's a harmonious blend of strategy and action that sets apart Stick War Adventure from other ordinary monster games.
The dynamic nature of Stick War Adventure is seen in its progressive gameplay feature that allows you to upgrade your stickman warrior by collecting falling items and gold. These upgrades add layers to your character's strength and unleash lethal special attacks that can take down even the most robust monsters.
The game's suspense intensifies with promises of formidable bosses waiting in subsequent chapters, indicating a deep game progression structure that keeps you glued to your screen. The element of surprise adds to the thrill, making each monster encounter an unanticipated revelation. This suspenseful aura draws you deeper into this epic war game with every advancing level.
All in all, if you love strategic action-driven titles filled with high-octane combat scenarios, then Stick War Adventure is the perfect game for you. Engaging, challenging and utterly addictive - this stickman war game provides a thrilling experience that will leave you yearning for more engagements on the battlefield.
What are the best online games?