Stick Shadow Fighter Legacy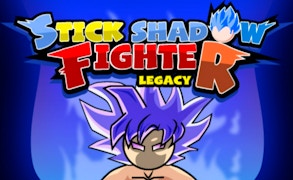 Stick Shadow Fighter Legacy
Immerse yourself into the intriguing world of Stick Shadow Fighter Legacy, a blend of thrilling clicker games and exhilarating battle games. Step into the shoes of your favorite stickman and embark on a riveting journey packed with non-stop action and relentless adventure. The goal? To guide him through an arena teeming with danger, helping him navigate through every curveball thrown his way.
This marvelous piece of art belongs to the realm of sword games, with our dexterous stickman displaying incomparable prowess in brandishing his weapon. Face off against formidable robots, each showdown requiring you to outsmart your opponent while skillfully wielding your sword. In a world where survival is everything, players will need every ounce of their gaming skills to defeat these mechanical monstrosities.
The game boasts impressive levels, each one more challenging than the last. You will find yourself dodging brittle bricks, leaping over looming cliffs, and engaging in intense combat against foes who would stop at nothing to see you defeated. And it's not just about fighting - Stick Shadow Fighter Legacy is a hybrid of stickman games, which means you need to think on your feet and act quickly if you're to survive its treacherous dungeons.
The game is available for free at kiz10.com and offers hours of unbroken gameplay filled with nail-biting moments that will keep you on the edge of your seat from start to finish. With its stunning visuals, heart-pounding gameplay, and engrossing storyline, Stick Shadow Fighter Legacy is a testament to what fighting games can achieve when they're done right.
Explore its vibrant world now! It's not just a game; it's an epic saga that awaits your mastery. Are you ready for the challenge?
What are the best online games?