State.io - Conquer the World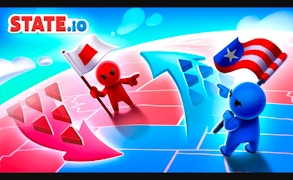 State.io - Conquer the World
In the vast universe of .io war games, State.io - Conquer the World stands out as a unique and compelling addition. A masterstroke in the realm of battle games and brain games, this title engages your strategic planning skills unlike any other.
This game is not a mere battleground, it's a canvas for strategic brilliance. Your mission is to conquer countries and territories, utilizing tactics rather than brute force. You're not merely defeating opponents; you're outsmarting them. As a player, you have one primary objective – to organise attacks and defenses cleverly, maintaining an iron grip on your territories while orchestrating plans to invade others.
The game mechanics cater to those with a love for intellectual challenges. It isn't about the size of your army but rather how strategically you can command it. You block and destroy enemy towers, defend your borders, and attack foreign lands. Every decision you make will echo throughout your campaign, making each move an intricate dot puzzle that needs to be solved.
State.io - Conquer the World is more than just a game—it's a test of your strategic acumen. Whether it's countering an opponent's offensive or plotting your next assault, this game keeps you constantly on edge.
A paean to those who love mastering tactics in Management Games, this game offers endless entertainment in the form of multiple maps and varied strategic scenarios. Whether you compete 1v1 on initial stages or against multiple competitors on advanced levels, there's always something new to tackle.
Ready to test your mettle in this intriguing war simulator? Ready to dominate the globe with strategy rather than strength? Then plug into State.io and embark on an epic journey of conquest!
What are the best online games?