Stacktris 2048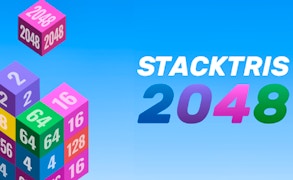 Stacktris 2048
Description
In Stacktris 2048, you'll be met with a unique combination of the classic puzzle game Tetris and the popular merging game 2048. This captivating arcade puzzle offers a twist where cells align not only in planes but also build upwards in a 3-dimensional format. The objective is to merge similar number blocks to create larger numbers, with the ultimate goal being the creation of a block with the number 2048.
How to play
The game operates with simple control mechanics. Position your falling blocks strategically to make identical pairs. When blocks containing identical numbers are stacked, they merge into one, resulting in a block with a larger number. The challenge is to manage your space efficiently and tactically merge blocks to reach the number 2048.
Tips and Tricks
The key to scoring high in Stacktris 2048 is by careful planning and strategy. Always anticipate your moves ahead, prioritizing potential merges. It's crucial not to fill up your space too quickly - try to keep as much of it free for maneuvering as possible.
Features
An innovative blend of Tetris and 2048 in a compelling 3D format.
No time limit offers opportunity for tactical gameplay.
Fuses number logic, spatial planning and an element of chance.
A challenging brain workout for fans of both strategy and numbers puzzles.
What are the best online games?