Stack Bike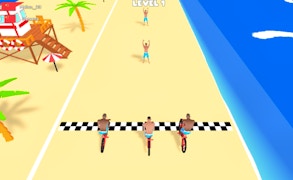 Stack Bike
Put your helmet on and fasten your seat belts, as we're about to delve into the exhilarating world of Stack Bike, a game that cleverly meshes dirt bike games, motorcycle games, and driving games into an unparalleled racing experience.
Aimed at honing your driving and skill games prowess, Stack Bike takes you on a thrilling journey filled with adrenaline-pumping action. As you navigate through the rugged tracks, your primary task is to gather team members and ingeniously stack them onto your bike. Herein lies the beauty of this interactive motorcycle game - the more teammates you collect, the swifter you become!
Stack Bike intelligently integrates elements of skill games by challenging you to strategize how many bikers can be stacked onto your ride without compromising speed or stability. Feel every heartbeat increase with each additional cyclist added, adding a level of suspense that sets it apart from other typical dirt bike games.
This game expertly balances between careful strategy making characteristic of skill games and full-throttle speed associated with motorcycle and driving games. It's not just about how fast you can go; it's also about how well you can adapt on the fly. With stunning graphics that capture every dirt speck flying off your wheels, Stack Bike revolutionizes the world of dirt bike gaming.
If an enticing amalgamation of strategy-filled skill games, raw speed-filled motorcycle games, and nerve-wracking excitement synonymous with dirt bike games sounds like your cup of tea, then Stack Bike should be brimming at the top of your gaming list! Fasten those helmets; it's time to hit the road!
What are the best online games?