Squid Game 2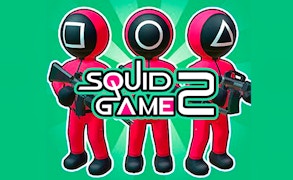 Squid Game 2
Immerse yourself in the thrilling, chaotic world of the Squid Game 2, a new addition to the genre of survival games and escape games. Known for its captivating challenges and ruthless competition, this .io game emerges as a real-life rendition of the widely popular series "Squid Game".
In Squid Game 2, you're not just playing a game, you're fighting for your life. It's a test of wits and skills that requires remarkable endurance and strategic prowess. The pressure is immense, knowing there can be only one winner in a Squid Game Challenge. Just when you think you've mastered an obstacle, the next one will leave you questioning everything.
No other gun games come close to providing such an adrenaline rush. With each level, Squid Game 2 pushes your limits and forces you to think outside the box. The odds are stacked heavily against your favor but that's the beauty hidden within this deadly chaos - it's designed to make heroes out of ordinary people.
This game brilliantly combines aspects of survival games, escape games and skill games into an intense battle royale setting. From navigating devious mazes to outsmarting your opponents in fierce gunfights - every moment in Squid Game 2 is designed to keep you at the edge of your seat.
But it's not all about doom and gloom! Squid Game 2 also rewards players with sizeable earnings which adds another layer of motivation to win. So not only do you survive - but can potentially thrive if your strategy pays off!
The real triumph of this survival game lies in its ability to manifest tension and high stakes into addictive gameplay while introducing innovative tactical elements found in top-tier skill games. The satisfaction derived from prevailing against seemingly insurmountable odds is uniquely unparalleled.
In summary, if you're seeking an exhilarating gaming experience that combines strategy, survival elements, and high-stakes competition - Squid Game 2 should be at the top of your list. Embrace the chaos – step into an arena where luck favors the brave.
What are the best online games?