Square Bird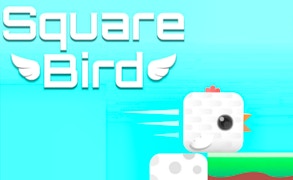 Square Bird
As an aficionado of arcade games, it's always thrilling to stumble upon a gem like Square Bird. This unique fusion of animal game and skill game is filled with the perfect blend of intuitive controls, vibrant visuals, and addictive gameplay, making it a must-try for any arcade lover. With an anime aesthetic that adds to its charm, Square Bird stands out in the ocean of typical arcades.
In the world of Square Bird, you are a geometric feathered friend navigating through challenges. The gameplay is deceptively simple but highly engaging. A single click triggers your avian avatar to lay a tower of square eggs, forming barriers against dangers ahead. The side-scrolling 2D platform format immerses you completely in this colorful universe, adding agility and acuity to your gaming skills.
Nimble fingers and quick reflexes are key as you maneuver your character through the intricately designed levels. Each round is a new experience with different combinations of obstacles to breach and rewards to claim. It's an adrenaline-pumping thrill ride that tests finesse and timing.
This innovatively designed anime game conveniently bridges the gap between casual gamers seeking a time-filler and hardcore players looking for an action-filled platformer. The simplicity here is deceiving, as Square Bird continually pushes you to shatter your previous high score and rise higher on the leaderboard.
In summary, Square Bird is an engaging fusion of genres. This arcade game cuts through the noise with its uncomplicated mechanics married with challenging gameplay. So if you are looking for an enchanting escape filled with adorable creatures, skill testing scenarios and lots of fun – dive into the world of this unique animal-skill-anime arcade game. It's time to fly high with Square Bird!
What are the best online games?