Sports Heads: Football Championship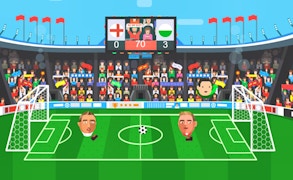 Sports Heads: Football Championship
Step into the adrenaline-charged world of Sports Heads: Football Championship, a captivating addition to the realm of online ball games. This heart-pounding experience takes the excitement of traditional football games and injects it with lightening-paced action and suspense. You're not just playing soccer; you're in a race against time, skill and strategy.
The gameplay is both riveting and intense, pitting you in a 90-second duel against your opponent. With each ticking second adding another layer of tension, the atmosphere is reminiscent of the nail-biting final moments in real-world soccer games. The power-ups add an exciting twist to this breath-taking ride, allowing you to either amplify your performance or throw your opponent off their game.
In true football spirit, the game begins with the familiar sound of the referee's whistle. But from there on out, it's a fast-paced whirlwind where every skillful dribble, every powerful kick counts. You have one mission: to score more goals than your adversary before time runs out. And let's not forget about those power-ups; they could just be what tips the scales in your favor.
The charm of Sports Heads: Football Championship lies in its simplicity. It's a perfect blend of entertainment and challenge that will keep any football enthusiast on their toes. The intensity builds with every passing second as you navigate your way through this electrifying game - maneuvering around obstacles, fighting off disruptions from power-ups and racing towards achieving that high score.
If you're a fan of ball games, or simply someone on the hunt for an exhilarating online gaming experience, look no further than Sports Heads: Football Championship. Your next challenge awaits!
What are the best online games?