Spooky Bubble Shooter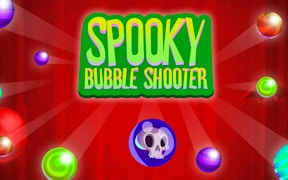 Spooky Bubble Shooter
Get ready to plunge into a whole new world of addictive game-play with Spooky Bubble Shooter, a unique addition in the realm of ball games and Bubble Shooter Games. This captivating arcade game guarantees heart-pounding excitement and an adrenaline rush like no other.
The plot revolves around the mission to clear the play area and rescue the cute Cherry Monster by skillfully shooting matching coloured balls. With a simple yet engaging gameplay, Spooky Bubble Shooter has mastery woven into its core.
Perfect for those seeking a heart-racing experience in the action-packed world of arcade games, this gem amps up the traditional bubble shooter mechanism with its spooky Halloween theme. Hence offering an added layer of complexity and thrill that creates an environment you'll surely get immersed in.
The clock is ticking! Every moment spent strategizing your next move, every colored ball blasted, each level cleared adds to the captivating charm of this arcade marvel. Spooky Bubble Shooter stands out not only for its straightforward but compelling gameplay, but also for its intriguing aesthetics.
The stunning visuals brilliantly blend a mesmerizing colour palette with detailed graphics, contributing to a hauntingly beautiful gaming experience. The charming yet eerie Halloween theme further adds to this, making it amongst the highly sought-after arcade ball games.
In conclusion, Spooky Bubble Shooter is more than just another run-of-the-mill bubble shooter game - it's an electrifying adventure that keeps you on your toes throughout. Whether you're an arcade enthusiast looking for a new challenge or someone who enjoys relaxed gaming sessions, this game is sure to win your heart with its perfect blend of simplicity, strategy, and spookiness.
What are the best online games?