Spiral Stairs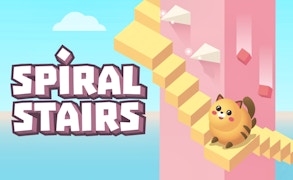 Spiral Stairs
Welcome to our review of the much-awaited Spiral Stairs, an intoxicating new entrant in the realm of arcade games. Taking a unique twist on cat games and animal games, Spiral Stairs catapults you into the action-packed life of a 3D cat with one seemingly simple task - to climb an endless spiral staircase.
The game's unique selling point lies in its unassumingly complicated nature. The straightforward command of tapping to make the feline hero climb the stairs and releasing to halt is easy enough on paper. However, that's where this intriguing game in the genre of Skill Games leaves simplicity behind and ventures into a world of thrilling challenges.
The journey upwards becomes a test of reflexes as one must dodge myriad obstacles that range from jarring spikes, relentlessly rotating blocks, to looming falling objects. The question looms - how high can you climb?
Despite its challenging nature, Spiral Stairs maintains an infectious "Fun and positive mood". This is a game that tests not just skill but also your strategic and timing abilities, underpinned by its energetic ambiance. Every attempt at climbing higher becomes an encounter with adrenaline-pumping action.
We guarantee that more than just the challenge will keep you hooked. As your high score scales greater heights, unlock different themes for your agile avatars. This unique feature makes Spiral Stairs a standout amongst other cat games.
In conclusion, for those seeking an unusually absorbing gameplay experience that blends fun with tests of reflexes in an arcade setting, look no further than Spiral Stairs! Dive into this engaging world of 'Skill Games' and let us know how high you've climbed!
What are the best online games?