Spinning Blades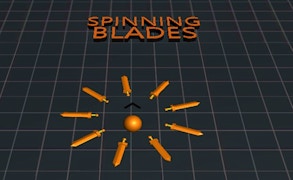 Spinning Blades
Brace yourself for the most enthralling .io game and step into the rousing universe of Spinning Blades. Unleash your inner warrior and immerse yourself in one of the most exciting sword games on the market. This isn't just a simple swipe-to-slash game; it's an epic test of endurance, strategy, and mettle within the wild realm of online survival games.
Spinning Blades is a heart-pounding experience where skill matches thrill. It teeters between chaos and control, demanding razor-sharp reflexes and strategic foresight to save more swords, advance through hordes of enemies, and survive the onslaught. It's not just about survival; it's a test of how quickly you can adapt, evolve, and overcome.
This .io game is proof that graphics aren't required for an electrifying experience. No bells or whistles; just pure, undiluted gameplay immersed in a cavernous world. From its easy-to-understand mechanics to its addictive progression system, Spinning Blades takes the essence of classic swordplay and transforms it into a sleek digital battlefield.
In a fierce wave of enemy attacks, you'll have to become both a survivor and a hero: strategize your approach, master your skills, and conquer every obstacle that comes your way. Every round enhances your abilities in this high stakes game of survival.
A stunning blend of survival gameplay with a touch of RPG elements makes Spinning Blades an intoxicating addition to the pantheon of Skill Games. Beyond its charmingly simple design lies an intricate web of strategies waiting to be unraveled by players who crave complexity in their gaming experiences.
To sum it up: if you're on the lookout for an engrossing .io game filled with epic sword battles where only the fittest survive – look no further than Spinning Blades! Feel the adrenaline surge with every swing – step into our world!
What are the best online games?