Spin Ball Rotate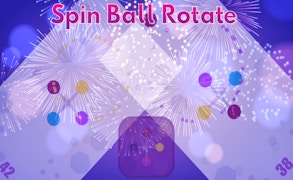 Spin Ball Rotate
Description
Spin Ball Rotate is a captivating puzzle game that demands both quick thinking and precision. You are tasked with matching a rotating ball's color with incoming balls of various colors. It's not as simple as it seems, mistakes lead to failures. The game tests your reflexes and quick decision-making skills, providing endless hours of thrilling gameplay.
How to play
The game is controlled solely by mouse clicks or touch. Click or touch the screen to spin the ball and match its color with the color of the incoming balls. The game progresses in difficulty, with more incoming balls and faster speeds as you advance further. Your goal is maximum color matches for the highest score.
Tips and Tricks
Your best strategy is to maintain your focus, keep an eye on incoming balls' colors and speed, reacting quickly but accurately. As speed increases, try predicting the next color match based on what you see coming. Remember, precision over hasty clicking leads to better scores.
Features
Simple Controls: Easy mouse-click or touch controls make it easy for anyone to play.
Addictive Gameplay: The increasing difficulty keeps gameplay challenging and addictive.
Puzzle Elements: Game strategy involves foresight and prediction, adding a brain-teasing element to this arcade-style game.
Vibrant Graphics: The game presents visuals that are clean, colorful, and pleasing to the eyes.
What are the best online games?
Tags