Spider Solitaire Deluxe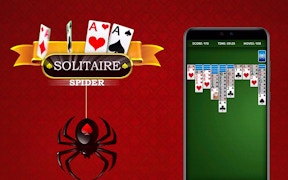 Spider Solitaire Deluxe
Description
Discover a world of strategic depth with Spider Solitaire Deluxe. This well-crafted version of the classic Solitaire variant brings a thrilling twist to your traditional card game experience. Crafted meticulous detail, the game involves creating stacks of cards in descending order from King to Ace. Dive into an immersive solitaire experience and challenge your tactical prowess.
How to Play
The main aim is to sort all cards onto their designated suit piles in descending order. Click or tap on card stacks to move them between columns. A stack of cards can only be moved if they are all in the same suit and arranged in perfect descending order. Clear all cards from the board to progress through the game.
Tips and Tricks
Hone your strategy by focusing on emptying a pile as quickly as possible because an empty pile allows for any card or sequence to be placed there. Also, always remember that moving a sequence from one pile to another only works when that sequence is of one suit.
Features
Classic gameplay: Enjoy an incredibly satisfying version of traditional Spider Solitaire.
Tactical depth: Develop your strategic skills with each challenging level.
Slick interface: Engage with beautifully designed cards for an immersive gaming experience.
Addictive progression: Conquer increasingly difficult levels as you ascend through the game.
What are the best online games?
Tags