Spider Solitaire Cards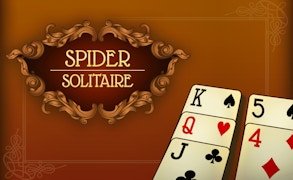 Spider Solitaire Cards
Description
In the intriguing world of Spider Solitaire Cards, test your strategy skills and patience! This classic card game demands tactical thinking as you strive to order cards in descending suites from King to Ace. Whether you're in for a competitive challenge or just a calming activity, this game is designed to meet your mood. No complicated settings, just simplicity and enjoyment.
How to play
To navigate through Spider Solitaire Cards, simply click or tap on cards to move them onto appropriate stacks. The game advances when all cards are arranged in complete stacks from King to Ace. Remember, only suit-ordered card stacks can be moved together. Extra cards are just a click away if needed.
Tips and Tricks
For a successful game of Spider Solitaire Cards, always prioritize creating empty piles when possible for maximum flexibility. Initial steps should focus on turning over the hidden cards. Keep your options open before deciding on a particular suit order.
Features
Straightforward Interface: Easy-to-use gameplay menu with minimal settings.
Flexible Modes: Any number from one to four suits can be chosen for varying difficulty levels.
User-Friendly Design: Clean graphics ensuring an eye-friendly gaming environment.
Free Game: Spider Solitaire Cards is completely free to play with no hidden charges!
What are the best online games?
Tags