Spider Solitaire Blue Game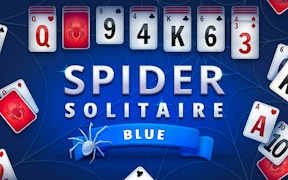 Spider Solitaire Blue Game
Immerse yourself in the captivating realm of card games with Spider Solitaire Blue, a breath-taking rendition of one of the most beloved styles of solitaire games. No longer bound by the limitations of physical decks, Spider Solitaire Blue delivers a stimulating, digital card gameplay experience right at your fingertips.
This stimulating masterpiece comes loaded with three classic gameplay modes: one-suit, two-suits and four-suits, providing exhilarating and engaging fun that will test your strategy and mettle. The variety in gameplay modes not only caters to both novices and seasoned solitaire players, but also ensures that boredom isn't part of the deal.
The hallmark of Spider Solitaire Blue is its brilliant blend of fun and brain-teasing challenges. Just like a thrilling rollercoaster ride, this game is sure to keep you on the edge with its ups, downs and quick turns making every move a test of your skills and wits. This highly addictive game will have you hooked for hours, testing your boundaries as you delve deeper into its sophisticated layers.
But the fun doesn't stop at just intriguing gameplay! Spider Solitaire Blue is adorned with polished graphics that complement the overall gaming experience exceptionally well. The visual appeal is reminiscent of Softgames' signature style which has earned them their esteemed position in the gaming world. The crisp graphics serve as a cherry on top, further enhancing the user-friendly interface and easy navigation that's characteristic of Softgames' Solitaire Games.
In essence, if you are a fan of card games or looking for an engaging way to stimulate your brain in 2022, then the Spider Solitaire Blue Game is an absolute must-play. Grab your digital deck today and discover why this game has earned its spot as an all-time favourite amongst many solitaire enthusiasts!
What are the best online games?
Tags