Spider Solitaire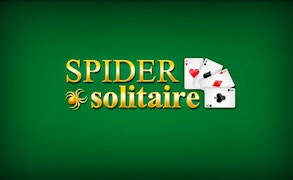 Spider Solitaire
Cards formed some of the earliest games in history and are still widely used today. There's even a way to play cards yourself, and that's with Spider Solitaire. The game involves sorting through a deck of cards and organizing them accordingly. The goal is to arrange all the cards that come up into columns of descending order while having the same suit. When you create a column ranging from King down to Ace, it will be removed from the board. You want to remove all the cards in as few moves as possible.
How to Play Spider Solitaire
Spider Solitaire has both puzzle and strategy elements in it. You can move individual cards from one column to another, but can only be placed down in spots where they share the same suit and are the next in the descending sequence (Example 1: You can put a 3 of Spades on a 4 of Spades, but not on a 2 of Spades). You can also move entire columns from the highest card in a sequence (Example 2: Imagine a column of Spades that goes 9, 5, 7, 6, 5, 4, and 3. You can move the individual cards starting from the bottom at 3, or in groups up to the 7. The 9 and 5 cards can't be moved until the 7 through 3 cards are removed).
The entire game is controlled with the mouse. You can move cards and groups of cards by clicking on the card you want to move (if it can be moved), holding the left mouse button down, dragging the card to where you want it, and then releasing the button to place it. When you make a full King-Ace column, the game will automatically remove those cards from the game. If you hit a wall, you can click the card stacks in the bottom right of the screen to add some new cards to the columns, but you only have a limited number of stacks. You can keep track of your score and moves using the counters at the top left of the screen.
Spider Solitaire Game Difficulty
While Spider Solitaire sticks with the traditional visual theme of a green card table with spider decor on the backs of its cards, there is something else you can control. When you start the game, you have the option to choose its difficulty based on how many suits you have to manage. The more suits there are, the more creative you have to be with your moves. There are currently several difficulties.
Easy: 1 Suit
Medium: 2 Suits
Hard: 3 Suits
Game Details
Release Date: 1998-06-25 (published on GamePix, 2015-07-20)
Creator: John A. Junod
Platforms: Web Browser, iOS, and Android Devices
Languages: Dependant on your region
Last Update: 2020-02-25
FAQ
Where to play Spider Solitaire
You can play Spider Solitaire through a Web Browser or download it onto your iOS and Android devices. Depending on which version you pick, prices can differ. To play it on your computer, follow these steps:
Go to GamePix.com and search for Spider Solitaire
The icon for Spider Solitaire has a set of playing cards on a green background with gold text and a small spider icon
Click the icon followed by the Play Now button and the game will start loading the Main Menu
Click the Play button and then choose your Difficulty
You'll then be taken to the Game Screen where the cards will be shuffled, and arranged on the board, and then you can start playing
Games similar to Spider Solitaire
Spider Solitaire is an old game and has many versions and variants of its rules and cards. By typing Solitaire in the GamePix search bar, you'll uncover a number of similar titles like Classic Solitaire along with Chess and Mahjong versions.
What are the best online games?