Speedway Racing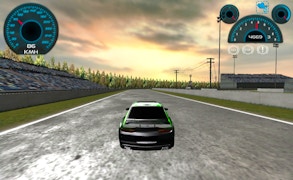 Speedway Racing
Immerse yourself in the adrenaline-pumping world of Speedway Racing, one of the most exhilarating car games of the year. Experience the thrill of professional oval track racing, filled to the brim with electrifying stock car racing action that will leave you clutching your controller in anticipation.
Fans of drifting games and driving games alike will find plenty to sink their teeth into. With its unique blend of precision handling and high-speed thrills, Speedway Racing truly sets a new standard for the genre. Whether you're a novice behind the wheel or a seasoned pro, Speedway Racing offers gameplay that's easy to pick up but takes real skill to master. Simply use your WASD or Arrow keys to control your speed machine - but don't be fooled, it's not as easy as it sounds!
The key to success in this game lies in mastering the art of drifting. Feel your heart pound as your tires scratch against the asphalt, all while skillfully maneuvering through high-stakes turns that test both your reflexes and strategy. The sense of speed is incredible; be prepared for your pulse to race as fast as your engine's RPM.
So gear up and strap into a whirlwind world where rubber meets road, and victory is always just a hairpin turn away. For those looking for an unadulterated blast of racing adrenaline, Speedway Racing is an absolute must-play. Test your mettle against some of the most intense driving challenges around and prove that you have what it takes to rule the racetrack.
In conclusion, Speedway Racing is an engaging addition to any gamer's library - especially those who have a soft spot for top-notch car games, drifting games, and driving games. Grab your helmet, rev those engines, and dive headfirst into the frenetic world of Speedway Racing today!
What are the best online games?