Sparkle 2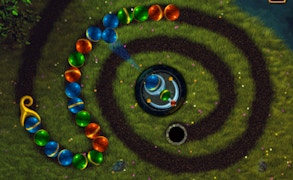 Sparkle 2
Immerse yourself in the captivating world of Sparkle 2, a mystical arcade masterpiece that blends the excitement of match 3 games with the fast-paced fun of ball games. It's addictive, aesthetically appealing, and challenging — an intoxicating mix that gets your gaming adrenaline pumping.
Sparkle 2 welcomes you to a world filled with ethereal landscapes and mysterious terrains. Each level is a visual treat replete with luminescent orbs, mystical backdrops, and immersive ambient sounds. The game captivates you from the get-go with its enchanting aesthetics and engaging gameplay.
The premise is simple yet effective: clear all the orbs before they fall into the abyss. It starts off easy, but don't be fooled; every new stage brings with it an enhanced challenge, keeping you on your toes. The match 3 mechanism on which Sparkle 2 is built requires not only speed but also strategic planning as you pave your way through increasingly complex levels.
The game also caters to fans of ball games. The orbs behave like balls; they roll, they collide, and yes, they disappear when matched in groups of three or more! Unpredictable movement patterns of these 'balls' give an additional edge to the gameplay. But remember — any balls that reach the abyss will end your game prematurely.
Sparkle 2, with its entrancing match-3 puzzle mechanics and exhilarating ball game elements, offers a heart-thumping gaming experience that effortlessly marries strategy with speed. This thrilling Arcade adventure hooks you in and dares you to explore its depths. So strap on your thinking cap and plunge into this magical game where every moment is filled with endless fun.
A final word? Whether you're a seasoned gamer or new to the puzzle genre - everyone can find their perfect balance of challenge and fun in Sparkle 2!
What are the best online games?
Tags