Spaces Solitaire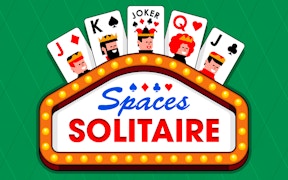 Spaces Solitaire
Description
In Spaces Solitaire, all 52 cards are dealt into four rows with each row having a space vacancy. This innovative take on solitaire tasks you with arranging the cards sequentially from 2 to King within each suit. The challenge lies in the restrictions on card movement: only a card of matching suit and of a value directly higher than the card on its left can fill a space.
How to play
Using your mouse, click and drag cards into the empty spaces. Remember, you can only move a card if it's of the same suit and higher by one rank than the card to its left. Players progress in the game by completely arranging all suits from 2 to King in sequence.
Tips and Tricks
Plan your moves carefully - moving a card rashly might block another necessary move later. Try to free up spaces as early as possible, giving you more flexibility for maneuvering cards. Always keep track of lower-ranking cards; they may prove crucial in progressing.
Features
An exciting new take on classic Solitaire rules.
A challenging puzzle aspect offering strategic gameplay.
A full pack of 52 cards ensuring varied round possibilities.
Stimulates strategic thinking and planning skills.
What are the best online games?
Tags