Sort Hoop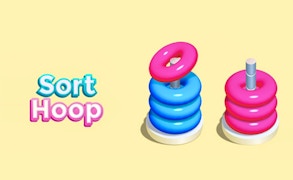 Sort Hoop
If you are on the lookout for top-notch Hyper Casual Games or engaging brain games, look no further than the ever-challenging, continually captivating arcade wonder - Sort Hoop. It is a thought-provoking game that is sure to evaluate your strategic skills and mental agility to the ultimate test.
Craftily designed and colorfully presented, Sort Hoop allows its players to delve into a world of vibrant hoops, requiring meticulous organization and structured thinking. This game will ask you to don your thinking cap as you strategize your moves, sort, and stack these hoops based on their colors.
The charm of this game lies in its simplicity and visually appealing design. Yet do not be fooled by its casual appearance; underneath lurks a substantial cognitive challenge. The deeper you plunge into this addictive arcade spectacle, the more complex and intriguing it becomes. Each level progresses in difficulty, seemingly daring you to think ahead and anticipate your next move wisely.
Playing Sort Hoop is akin to undertaking an intense mental workout session; it strengthens your proactive thinking abilities while delivering an unmatched gaming experience. It's not just another typical arcade game; it's a riveting brain-testing journey that keeps your neurons sparking and synapses firing!
To sum up, if you're an ardent fan of hyper-casual games or brain-training exercises, Sort Hoop's mix of addictive gameplay and visually pleasing aesthetics will leave you yearning for more. It's time to enhance your strategic skills while diving into a color-filled universe with this amazing arcade offering!
What are the best online games?