Solitaire: Zen Earth Edition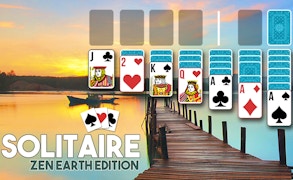 Solitaire: Zen Earth Edition
Immerse yourself in the tranquil universe of Solitaire: Zen Earth Edition, a mesmerizing entry among countless solitaire games that strives not only to entertain but also to provide an oasis of serenity in our hectic daily lives. As the latest shining star in the constellation of card games, this title exceptionally blends fun gameplay and relaxation.
At its core, Solitaire: Zen Earth Edition retains the time-honored rules of classic solitaire, serving up an undiluted serving of this card game staple. But it does not stop there. This gem boasts a bounty of customization options, allowing you to fine-tune your gaming experience according to your unique preferences.
The cherry on top of this card gaming sundae is undoubtedly its breathtaking visuals. Solitaire: Zen Earth Edition showcases an eye-catching array of stunning earth images rendered in impressive HD quality. As you navigate through the decks, you'll embark on a visual journey around our magnificent planet, all while challenging your strategic skills and tactical prowess in solitaire.
The game's soothing ambiance sets it apart from other solitaire games on the market. The zen atmosphere effectively amplifies the serene nature of this edition, essentially transforming every gaming session into a meditative experience. Can you think of another card game that also doubles as stress relief?
To sum up, Solitaire: Zen Earth Edition offers a distinctive blend of classic gameplay and atmospheric design that strikes a perfect balance between entertainment and relaxation. It represents a leap forward for solitaire games, shining brightly with enchanting visuals, engrossing gameplay, and unparalleled customization options for die-hard solitaire fans or casual gamers seeking comfort in tranquility.
What are the best online games?
TAGS