Solitaire Story - TriPeaks 3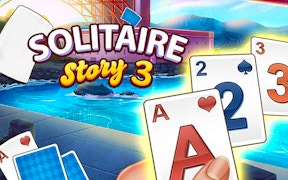 Solitaire Story - TriPeaks 3
If you have a penchant for solitaire games, then buckle up and get ready to embark on a fascinating journey with Foxy, the adorable mascot of Solitaire Story - TriPeaks 3. This delightful card game is the latest installment in one of the most beloved solitaire game franchises.
From charming Paris, bustling Berlin, serene Bali, picturesque Italy, ancient Egypt and more, Foxy leads you on a spectacular voyage filled with a multitude of colorful backdrops. Whether you're a seasoned solitaire veteran or a novice eager to delve into the world of card games, Solitaire Story - TriPeaks 3's incredible depth of 2750+ levels ensures your experience is never monotonous.
The immersive visuals and engaging gameplay make this card game an absolute must-play. Not just another standard solitaire game, each level introduces new elements and challenges – ensuring that each hand dealt is a fresh adventure. And if that wasn't enough, the developers have thrown in Daily Missions and Weekly Air Balloon Challenges! These will keep you on your toes and add an extra layer of engagement to the already deep gameplay.
In addition to these enjoyable features, Solitaire Story - TriPeaks 3 also gives players dozens of new card designs to collect. This allows for even more personalization, enabling every player's experience to be truly unique.
In summary, Solitaire Story - TriPeaks 3 is more than just a solitaire game; it's an adventure spanning across countries and landscapes famous worldwide. With its depth of levels and multitude of features, it sets itself apart in the genre and promises hours upon hours of entertainment. Whether you are an old fan or are yet to discover this gem – this game shouldn't be missing from your collection!
What are the best online games?
Tags