Solitaire Solitaire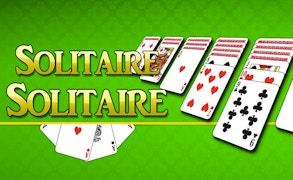 Solitaire Solitaire
Rediscover the joy of classic gameplay with Solitaire Solitaire - a card game that will challenge both your patience and your smarts in the best way possible! Immerse yourself in one of the most globally admired solitaire games right on your phone or pc.
The beauty of Solitaire Solitaire lies in its simplicity. Each game is a fresh new puzzle waiting to be solved. What starts as a deck of shuffled cards soon evolves into a stimulating test of strategy, as you work to arrange the cards in order using just one or two suits, depending on the difficulty level chosen.
This exquisite card game proudly stands among the most engaging solitaire games available today. It boasts multiple game modes to ensure endless hours of fun - you can spend an entire afternoon engrossed in a high-stakes mega round, or sneak in quick, five-minute games between your daily tasks.
Through its innovative UI and stunning visuals, Solitaire Solitaire transports you straight into those nostalgia-filled days of playing cards while keeping you engaged with its modern twists.
In summation, this isn't just another solitaire game; it's an intuition tester and boredom buster rolled into one easy-to-use app. Whether you're a seasoned pro or new to the world of solitaire, Solitaire Solitaire is sure to become your go-to for all things card-related!
We invite you to challenge your patience and intelligence today with Solitaire Solitaire. Redefine your gaming experience with this must-play card game that has truly revolutionized the world of solitaire games.
What are the best online games?
Tags