Solitaire Mahjong Juicy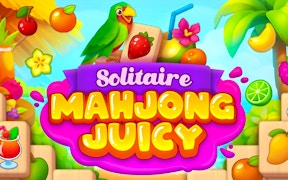 Solitaire Mahjong Juicy
If you're a fan of mahjong games and solitaire games, then Solitaire Mahjong Juicy is the perfect mash-up for you. As soon as you dive into this tropical gaming paradise, you'll be addicted to the vibrant visuals, relaxing soundtracks, and enticing gameplay.
Solitaire Mahjong Juicy takes the classic mahjong experience on a colorful vacation. Imagine yourself lounging beachside on an idyllic Caribbean island, solving intricate puzzles to create the ultimate fruity concoction. Match the tantalizing tropical fruits in pairs and conjure up some refreshing fruity drinks!
This isn't just your traditional solitaire mahjong game; it adds an interesting twist with a juicy theme that keeps getting more intriguing with every stage you conquer. The more you play, the more challenging puzzles you unlock - keeping your brain stimulated as well as engaged.
You'll adore the stunning visuals that transport you to a captivating tropical landscape with every click. The palette of vibrant colors used creates a realistic island vibe which only adds to the overall gameplay experience.
Be prepared to be challenged! This game encourages strategizing and prompts logical thinking which will surely excite puzzle-solvers everywhere. Solitaire Mahjong Juicy is not just about matching tiles, it's about scoring points too! The more matching pairs of fruits you make successfully in less time, the higher scores you achieve.
In conclusion, Solitaire Mahjong Juicy is a delightful blend of two popular genres – mahjong games and solitaire games. Its rich graphics, engaging gameplay mechanics, and tropical theme are guaranteed to provide hours of entertainment for both casual and seasoned gamers alike. It's time to put on your sun hat and let Solitaire Mahjong Juicy take you on an unforgettable gaming holiday!
What are the best online games?