Solitaire Mahjong Candy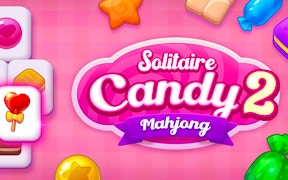 Solitaire Mahjong Candy
Enter the delicious world of the Solitaire Mahjong Candy, a delightful blend of solitaire games and mahjong games that takes you on a sweet journey full of fun and challenges. This enchanting game wonderfully marries the traditional mahjong gameplay with an array of delightful candies, providing an intriguing gameplay experience that is both captivating and enjoyable.
The first thing that strikes you about Solitaire Mahjong Candy is its vibrant aesthetic. The game features a beautifully designed interface, complete with colorful candies that immediately catch your eye! It's not just another board game; it's a visual treat. The game levels are well-designed, each offering its own unique puzzle for you to solve – a delectable twist to your typical fun games.
Solitaire Mahjong Candy effectively carries forward the classic solitaire mahjong's hallmark – its deeply strategic gameplay. Each move requires careful thought and strategy, ensuring that you remain thoroughly engaged throughout your gaming session. The more you play, the more surprises it holds as the game unfolds with new challenging puzzles testing your skills, patience, and strategic thinking.
The objective is simple yet exciting: Score as many points as possible! But remember, points are not spoon-fed in this game; they're earned by tactful planning and intelligent decision-making. So brace yourselves and venture into this candy land where strategy meets sweetness.
All in all, Solitaire Mahjong Candy embodies a perfect fusion of cuisines for your gaming appetite. Its charming visuals, compelling gameplay mechanics, and challenging puzzles make it simply irresistible for any lover of board games.
If solitaire games or mahjong games fuel your gaming passion or if you're just looking for some fun games to engage in during your leisure time, then Solitaire Mahjong Candy is the perfect pick for you!
What are the best online games?