Solitaire Farm Seasons 2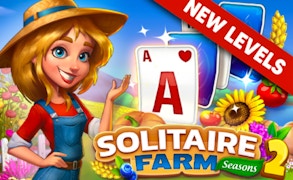 Solitaire Farm Seasons 2
Welcome back, passionate players of solitaire games, and prepare to be thrilled by the rustic charm of Solitaire Farm: Seasons 2. This enchanting sequel to the beloved Solitaire Farm series takes you back to the idyllic countryside, armed with a pack of cards and a head full of puzzle-solving strategies.
The game's evolution brings you a staggering 3,000+ levels of classic solitaire gameplay, all wrapped up in the delightfully tranquil aesthetic of farm games. Whether you are a seasoned veteran of card games like Freecell Solitaire or Spider Solitaire or new to card games altogether, you will find this entry both intoxicatingly nostalgic and refreshingly innovative.
Solitaire Farm: Seasons 2 not only whets your intellectual appetite with its creative puzzles but also satisfies your craving for immersive gameplay. Each level unravels a new layer of agricultural charm that brings you closer to Mother Nature. Play, plant and harvest your crops while you maneuver your way through deck after deck of solitaire challenges.
Rally your wits against a massive array of solitaire puzzles that span across different game variants like Tri Peaks Solitaire, Pyramid Solitaire, and Klondike Solitaire. With exciting game modes and daily missions always at your disposal, there's never a dull moment in this farm-themed solitaire paradise.
If you love solitaire games with a unique twist or have an affinity for serene farm games, then don't miss out on this epic sequel! Tend to your mental agility as well as your virtual crops in Solitaire Farm: Seasons 2.
What are the best online games?