Solitaire Classic Easter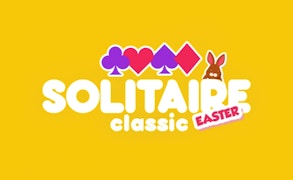 Solitaire Classic Easter
From the vibrant realm of card games emerges a new contender this Easter - the charming and captivating Solitaire Classic Easter. It's not just a game, but a seasonal delight for all those who unflinchingly enjoy solitaire games. This game is designed to embellish your Easter with an extra shot of joy and challenge.
The objective is simple yet enticing – you are tasked with moving all cards onto the four foundation piles, sorted by suit and rank in an ascending order from Ace to King. Sounds easy, right? However, there's a twist! On the field, you can only sort cards in descending order alternating colors. This clever design tweak elevates Solitaire Classic Easter from an ordinary card game to an extraordinary mental exercise.
In the crowded market of solitaire games, Solitaire Classic Easter stands out like the rarest egg at an Easter hunt. This game guarantees to keep your brain engaged while keeping your spirits high with its festive ambiance. The vibrant graphics, along with the Easter-inspired details and settings, transport players into an enchanting world where strategy meets fun.
In conclusion, Solitaire Classic Easter offers more than just a traditional solitaire experience. It combines skillful gameplay with a refreshing festive theme to ensure that every player's experience is filled with strategic planning, challenging fun, and Easter delight. If you're looking for a card game that seamlessly blends fun with strategy, then buckle up! Start sorting those decks in alternating hues because Solitaire Classic Easter will indeed make your gaming sessions merry and bright!
What are the best online games?
Tags