Solitaire Chess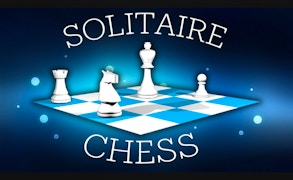 Solitaire Chess
Step into the fascinating world of Solitaire Chess, a riveting foray into the revered universe of chess games. This captivating brain game, although bearing semblance to traditional chess, doesn't necessitate you to be a grandmaster, opening up the thrilling realm of chess to everyone.
The rules are intriguingly straightforward; you move your pieces following conventional chess strategies but with an electrifying twist - each turn necessitates a compulsory capture. The objective is as compelling as it is challenging - capture all pieces, leaving just one sole warrior standing on the battlefield.
If the thought of learning chess rules sends shivers down your spine, worry not! Solitaire Chess comes equipped with an inbuilt tutorial and handy cheat-sheet for moves. You'll be making strategic captures and moving your knight with the flair of a seasoned pro in no time.
Solitaire Chess keeps you hooked not just with its intelligent gameplay but also due to its addictive puzzle format. It is easy to learn yet hard to master, thereby ensuring that every game remains interesting and unique. This stimulating brain game will surely cater to those who crave clever tactics and strategic maneuvering.
If chess games are your call or if you're seeking something that sharpens your mind while providing riveting entertainment, Solitaire Chess is a must-try! It's not just a game; it's an invigorating exploration into strategic depth that promises hours of intellectually engaging fun.
What are the best online games?
Tags