Solitaire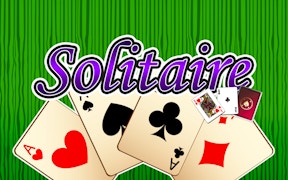 Solitaire
Even with all the bells and whistles of digital games, card games like Solitaire are still as popular as they've ever been. While it's fun to play them IRL, there are plenty of options to play online. A prime example is Solitaire which is all about problem-solving and strategy. It's a game that is quite useful for killing time and keeping your mind sharp. There are multiple ways to play and every time you shuffle the cards, it's like an entirely new game. You could say that there's an element of luck involved, but there's always a workaround on the hand that you're dealt.
About Solitaire
This game is a classic for a reason both being a game and an activity that will keep you thinking and active. Although it may look intimidating at first, it's relatively easy to learn and once you do, you can set it up anytime and anywhere as long as your cards can handle it. With the digital version, you'll always have access to a pristine deck of cards and controls for sharp movements. It serves as a great introduction to cards in general while giving you a feel for other card games.
How to Play
After you locate Solitaire on Gamepix, you can get started quite quickly. After you select your style, the game will begin. You'll be playing on a green table background with cards arranged in different sections.
The far left is the empty columns section, where you're trying to complete ascending sets starting with an Ace card and ending with a King (all must be the same suit). The top area is the filled columns section which is used to organize and track current cards in play, but these are arranged in descending order and cards must be different colors (eg. You can put a red 9 on a black 10).
You can also move entire groups of ordered cards from one filled column to another as long as they continue the sequence. The bottom right is the draw section which allows you to put cards into play. Click on the card pile to draw a card which you can then try to put into any of the columns by clicking and dragging it (a simple click will automatically put the card in the preferred column). If you can't place the drawn card anywhere, draw more until you can.
Tips and Tricks
The game ends once all the columns have been completed. You're aiming for the fewest moves and the lowest time possible to get the highest score. A good way to begin is to identify the highest and lowest card currently in play quickly. See if any of the current columns can be added to each other to clear some space and help with organization.
Solitaire Game Modes
Solitaire has a quick and easy setup but it does offer two modes of play. Before the game begins, you'll have a choice of being able to draw 1 card at a time or 3 cards at a time. While the latter may give you more options, remember that you'll only be able to clearly see the top card of the 3 drawn. If you're unable to sort it into one of the columns, you won't be able to access the cards below it.
Game Details
Developer: Softgames
Platforms: Web Browser (PC and mobile)
Languages: English
Gameplay Footage
FAQs
Do I need to be connected to the Internet or Online to play?
If you're planning to play the game through GamePix, you'll need a stable internet connection. To play offline, it's recommended that you download an app version before you go offline.
What happens if I can't make any more moves?
This card game may be about strategy, but there is an element of luck involved. While a majority of setups are beatable, there's still a chance you'll be blocked out through no fault of your own. If this happens, it's just bad luck and all you can do is start over.
Games similar to Solitaire
GamePix has sorted this game into its own category called Solitaire Games. Searching this category on the site will yield titles like Kiba & Kumba: Tri-Towers, Solitaire Garden, and Hearts.
What are the best online games?
Tags