Soccertastic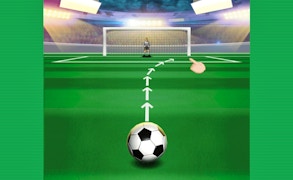 Soccertastic
Welcome to the thrilling world of Soccertastic, an engaging sport delight that's sure to captivate football enthusiasts and gaming aficionados alike. As a standout title in the bustling realm of ball games, Soccertastic places you right at the heart of the action in an invigorating penalty game designed to test your skills and strategic thinking.
The premise of Soccertastic is wonderfully simple – swipe the ball and experiment with different techniques in your quest to score as many goals as you can. With every swipe comes a new challenge, a new opportunity, another shot at glory; it's like having front row seats to your own World Cup penalty shootout!
At its core, Soccertastic is not merely one of those run-of-the-mill soccer games or football games that clutter the internet. Instead, this game is a vibrant fusion of strategy and skill. In our testing, we found that successful players are those who can think on their feet and tailor their swipe technique to each unique situation.
But don't be fooled by Soccertastic's simplicity! The brilliantly crafted gameplay mechanics ensure an adrenaline-pumping experience that will keep you on your toes. Every strike requires careful calibration – factor in the angle, power, twist! This is not just a game; it's an artistry immersed in sports!
Furthermore, Soccertastic stands tall among similar Skill Games. Whether you're looking for quick entertainment or intense gaming sessions, this game will fulfill your needs with its assorted challenges and exciting gameplay mechanics.
In conclusion, if you're after an interactive football gaming experience that seamlessly infuses skill-based competition with out-and-out fun – look no further than Soccertastic. It's not just about winning; it's about how magnificently you play this beautiful game!
What are the best online games?