Soccer Simulator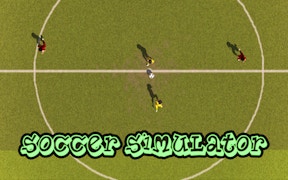 Soccer Simulator
As a connoisseur of sports genre games, I am thrilled to delve into the world of Soccer Simulator, a thrilling entrant in the arena of soccer games. For those inclined towards lifelike and immersive ball games, this title promises to lift your spirits and engage you in a delightful sporting experience.
The game features two captivating modes that add depth and variety to gameplay. Each one designed impeccably to provide players with a perfect mix of realism and excitement. Whether you fancy quick matches or want to indulge in long-term career mode, Soccer Simulator has got you covered.
What sets this soccer game apart from others is its jaw-dropping simulation experience. It truly shines in the realm of simulator games, bringing the beauty, intensity, and unpredictability of real-life soccer right onto your gaming console. The precision at which every kick, pass, and goal is replicated makes it an absolute gem for simulation lovers.
The fun factor in Soccer Simulator's gameplay cannot be overstated either. From player customization to dynamic weather changes affecting your play style, it keeps you hooked with its exciting twists and turns. Every match feels unique, keeping boredom far away from this fantastic soccer game.
In conclusion, for gamers who love the blend of end-to-end action, strategic gameplay and music to their ears crowd roar that most sports genre games possess but elevated with stunningly realistic graphics - look no further! Embarking on a journey with Soccer Simulator is like donning your favorite team's jersey before a big match - exhilarating, nerve-wracking but above all else - incredibly fulfilling!
What are the best online games?