Soccer Shoot 3D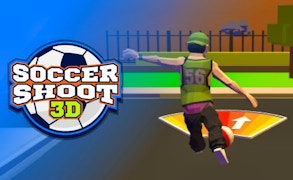 Soccer Shoot 3D
Unleash the adrenal rush of your inner football enthusiast with the electrifying title, Soccer Shoot 3D. This game is more than a simple addition to the universe of ball games; it's an immersive experience that delivers realistic soccer fun in vibrant 3D graphics. Boasting an intuitive gameplay that's as rewarding as it is challenging, Soccer Shoot 3D ensures you experience every pulsating moment that comes with a high-octane soccer match.
The game sets itself apart from traditional soccer games with its unique upgrading system. With every try, you earn money, which can be utilized to improve your gameplay attributes - strength, speed, bounciness and offline earnings. The joy of watching your kicked ball soar through the air, powered by your upgraded strength and speed, and reach further than ever before is invigorating and fuels the fun factor of this game.
Whether you're a seasoned gamer looking for something fresh in the sport games category or a casual gamer seeking fun games to play during leisure time; Soccer Shoot 3D caters to all. It ingeniously combines sport simulation with smart progression mechanics. The learning curve is well balanced as well - easy enough for beginners to get into it quickly but challenging enough for the accomplished gamers.
This game offers a creative spin to conventional skill games. The ability to strategize how and when to upgrade your attributes adds an additional layer of excitement. It motivates you to pool resources effectively for maximum results, turning Soccer Shoot 3D into a great blend of strategy-based soccer action.
In conclusion, Soccer Shoot 3D successfully merges various dynamics from different genres into one complete package - making it stand out among other soccer games. Whether it's the thrill of watching your ball leap towards new distances or strategically planning your upgrades for maximum effect, this game promises endless hours of delightful gaming.
What are the best online games?