Soccer Online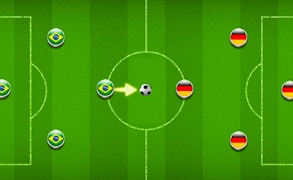 Soccer Online
If you are a fan of soccer games or ball games, then strap on your virtual cleats and get set for the ultimate gaming experience with Soccer Online. This isn't just a game; it's the embodiment of strategic prowess, teamwork, and the thrill of victory. Soccer Online hits a homerun for sports enthusiasts, taking players on an adrenaline-pumping ride across the virtual pitch.
Perhaps the game's most enticing feature is its interactive platform that lets you engage with friends online. You're not just playing against an AI-this is real-time action that tests your mettle against other soccer enthusiasts across the globe! Invite your friends for a friendly match or take on strangers in challenging tournaments! Here, it's not just about scoring goals, but developing a tactical approach to outwit your opponent.
The power of strategy comes alive in Soccer Online. It's not enough just to kick - you need to plan, execute, and conquer within a limited time frame. It's mastering the art of feinting, predicting player movements, and controlling the pace of play that will set you apart in this soccer paradise. But remember - clock is ticking! Master the art of quick decision-making because victory tastes sweeter when snatched from the jaws of defeat!
In conclusion, Soccer Online offers not just another round on the pitch but an immersive experience that will ignite your love for soccer. This is more than just one of many soccer games; it is 'the' pacesetter amongst ball games. So tighten those virtual laces and prepare for an unforgettable journey into footballing greatness!
Are you ready to kick-off? Then join us in this grand adventure where strategy meets sport in an exhilarating showdown! Have fun and good luck!
What are the best online games?
TAGS