Soccer Heads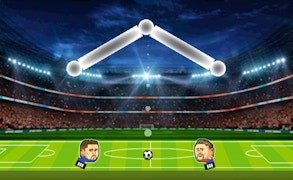 Soccer Heads
Looking at football from afar, you may think that it seems like a simple game, but it's far more complex having various techniques as seen in Soccer Heads. While this game may be a comical and simple take on football, the essence of the difficulty of what you're trying to do is there. Namely, you're relying on pulling off great headers in order to score and outmaneuver your opponent. The Header is a football technique that's not the easiest to execute but can prove surprisingly effective and precise for those who find just the right moment to pull it off.
About Soccer Heads
It might be obvious to hear that hitting things with your head is difficult and can be very harmful if not done correctly. The ball in football may not be super hard, but it can hurt if not hit correctly and this game wants to look past that. It takes the technique and turns it into the method in which you're able to bounce the ball up and over your opponent so that you can get ahead in the score. Despite the more relaxed nature, it does capture the idea of using your head in just the right way while also relying on footwork when you need it.
How to Play
Soccer Heads is a 2D competitive football game about trying to score goals against your opponent using the keyboard.
Player 1 Controls
W - Jump
A - Move Left
D - Move Right
G - Kick
Player 2 Controls
Up Arrow - Jump
Left Arrow - Move Left
Right Arrow - Move Right
M – Kick
The goal of the game is to score more goals than your opponent. You can play against the computer or against a friend locally. Once you decide, you'll be taken to a character select screen and then the game will begin. The players will start on opposite sides of the field in front of their prospective goals. The ball will drop down in the middle and you'll need to bump into it to move it. You can use the kick move to give it some air and distance then use your head to hit it further up or further away. When the ball goes into a goal, the player will score and get a point. After each point, the ball will respawn in the center and the one with the most points at the end of the time limit will win the match.

Throughout the game, there will be power-ups that will appear around the field. These are collected by hitting the ball into them. Good power-ups are highlighted in green while bad power-ups are highlighted in red. It should also be noted that when playing single-player against the computer, several spheres will be arranged above the field. These act as obstacles that will block the ball when it hits them adding an additional challenge.

Tips and Tricks
An effective way to approach this game is to focus on keeping the ball in front of you. Should the ball ever get behind your player, it can be difficult to recover so use calm and caution if this ever happens.
Game Details
Platforms: Web Browser (PC and mobile) and Android
Languages: English
Gameplay Footage
FAQs
Can you play Soccer Heads online?
Unfortunately, this game only has local multiplayer and both players will need to share the keyboard.

Games similar to Soccer Heads
From the title and gameplay, this game is placed into the Sports and Football Games categories on GamePix. Other games in these areas are Touchdown Rush, Hockey Shootout, Football League, and Penalty Superstar.
What are the best online games?