Soccer Free Kick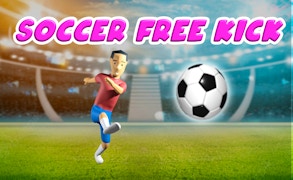 Soccer Free Kick
Description
In Soccer Free Kick, you are placed right in the heart of thrilling soccer action. Showcase your skills by scoring goals while representing your chosen team. The challenge intensifies as you progress, testing your dexterity and strategic prowess. Set against players worldwide, can you climb the leader-board to become the ultimate free-kick champion?
How to Play
To play, select your favorite team and start aiming for the goalpost. Use your mouse or touch controls to set the direction, angle, and power of your shot. With every stage, confront increased difficulty levels that demand precision and timely decisions.
Tips and Tricks
Remember that power is not everything. Focus on mastering angle control, as this can drastically improve your success rate in scoring goals. Observe the goalkeeper's position closely and try to send your shots where he isn't.
Features
Select from a variety of teams to represent.
Involving gameplay that progressively gets tougher.
Compete with players worldwide for the top spot on the leaderboard.
Precise control system for more immersive experience.
What are the best online games?