Soccer Challenge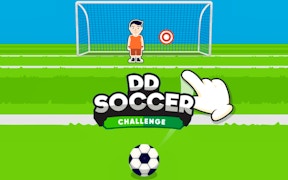 Soccer Challenge
Description
In the gripping sports game Soccer Challenge, feel the adrenaline rush as you man the penalty spot. Your mission is to outdo the goalkeeper, with each advancing stage upping the ante. The design might seem straightforward initially, but as you delve into the game, we guarantee a challenging and enjoyable experience that will keep you engaged for hours!
How to Play
To play this engaging football game, position yourself behind the ball in a penalty-like stance. Aim with precision and shoot to score against the opposition's goalkeeper. Progression through stages depends on your scoring prowess; each successful goal elevates you to a tougher level. Keep practising—the game requires skill and strategy.
Tips and Tricks
Understand your opponent's goalkeeping style for successful shots. Varying your shooting patterns—sometimes opting for power while other times aiming for corners—will increase your scoring chances significantly. Remember, in Soccer Challenge, strategy is equally important as skill.
Features
The escalating challenge: The level of difficulty increases with every stage.
Precision-based gameplay: Success comes from accurate goal-scoring.
A variety of goalkeepers: Unique styles provide diverse challenges.
Addictive format: Perfect blend of challenge and fun to keep players engaged.
What are the best online games?