Soccer Caps Game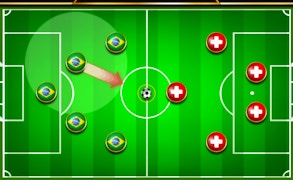 Soccer Caps Game
If you're a fan of soccer games, ball games, or skill games, then you're in for a real treat with the thrilling and fast-paced Soccer Caps Game. This captivating game sets the stage for an unprecedented World Cup experience that will pull you in from the very first whistle blow and keep you glued to your screen long after the final whistle.
As a player, you're thrust into the skin of a team manager in control of your chosen squad's fate. Soccer Caps Game has been hailed as one of the best soccer games in recent years because it captures all the aspects of soccer that fans love. It's not just about scoring goals; it's about applying strategy, analyzing your opponents' weaknesses, maneuvering your caps with precision, and adapting to various game scenarios.
One aspect I've found incredibly rewarding is how this game challenges not only your ball handling skills but also your tactical knowledge of soccer. The intricate design of Soccer Caps Game pairs wonderfully with the engaging gameplay mechanics, creating a unique blend of ball games and skill games. The satisfaction derived from outwitting your opponent by seeing through their defense and landing that perfectly timed goal shot is simply exhilarating.
The graphics play a crucial role in making Soccer Caps Game such an immersive experience. The visuals are sharp and colourful, bringing a lively feel to every match you play. The caps' movements are fluid and responsive, simulating real-life movements on a soccer pitch.
In summary, Soccer Caps Game takes everything we love about soccer games —the adrenaline rush, the strategic depth, the mastery over positioning and ball control— bringing it all together into one comprehensive package that's sure to captivate any gamer who has an affinity for sports or skill-based gaming. A must-play for any lover of football or skill games.
What are the best online games?