Snowboard King 2024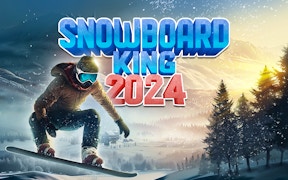 Snowboard King 2024
As a sports enthusiast, I've skated through countless skateboard-games, but none have captured the adrenaline rush of an icy downhill slide like Snowboard King 2024.
The excitement kicks off from the word go as you plunge into snowy landscapes, poised to outmaneuver an avalanche. The stakes are high and your skill-games prowess put to the ultimate test as you dodge trees and rocks with lightning-fast reflexes. You can't help but feel like a warrior racing against time.
In Snowboard King 2024, every snow-covered slope is a new challenge, a different battle waiting to be won. The thrill escalates as you venture deeper, discovering shorter (and riskier) routes down the hill. Every sharp turn beckons with promise and peril in equal measures.
This is not your run-of-the-mill arcade game; it's a roller coaster ride that pushes your boundaries and rewards courage. There's no moment of respite, no chance to pause—just endless, addictive action that leaves your heart pounding and fingers twitching for more.
Graphically, the game is a masterpiece—the frost-glazed trees, textured ice patches, and dynamic light-shadow play are simply mesmerizing. The immersive sound effects of swooshing snow and roaring avalanches further elevate the sensory thrill.
In conclusion, Snowboard King 2024 is a must-play for all skateboard-game lovers who crave high-octane adventure draped in a winter wonderland setting. It's not just about skill—it's about daring to race against nature's power while sliding down sheer ice at breakneck speeds. Be prepared: This game will chill your spine while it warms your gaming heart.
What are the best online games?