Snow War.io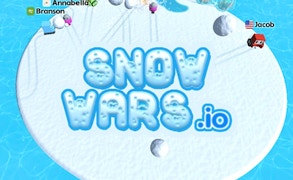 Snow War.io
Embrace the frosty thrill of Snow War.io, the latest sensation in the realm of .io genre games. This exciting title stands out amongst the plethora of Christmas games, bringing a unique blend of fun and competition that will keep you gripped for hours.
Snow War.io's festive theme not only capitalizes on the jolly spirit of Christmas but also presents a challenging and thrilling battlefield, making it an ideal choice for those seeking out exhilarating war games. Imagine dodging snowballs and building icy fortresses; every moment in this gripping survival game brings you closer to victory or defeat.
A key standout feature is its distinctly compelling io gameplay. The mechanics are intuitive, ensuring even newcomers to the genre can quickly adapt and jump straight into action. Yet don't be fooled! The game undoubtedly rewards strategic thinking and quick reflexes, adding a layer of depth often missing from conventional survival games.
Another laudable aspect lies within its visuals. The developers have done an exceptional job crafting crisp, clean graphics that brilliantly capture the essence of a real snowball fight. This attention to detail goes far beyond just aesthetics; it enhances overall gameplay experience by providing a visually stimulating environment reminiscent of virtual car games, where every small element adds to the immersive experience.
To sum up, Snow War.io is an engaging blend of action-packed warfare and festive cheer. With its intuitive io gameplay, detailed graphics, and war-based survival elements, it is sure to appease gamers seeking out Christmas-themed car games or war games alike. A frosty battleground awaits you - Are you ready for an icy showdown?
What are the best online games?