Snow Rider 3D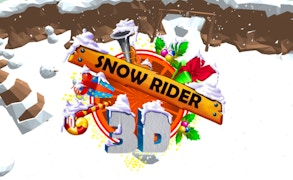 Snow Rider 3D
Welcome to our in-depth review of the winter themed, thrilling driving game - Snow Rider 3D. This title wonderfully mixes elements from simulator games,offroad games, and is one of the most riveting Christmas games currently available on the market.
Snow Rider 3D seduces you into a fascinating world where you can live out your dream of riding a sleigh, all from the comfort of your home. The realistic 3D graphics make every sleigh ride feel as if you're really cutting through fresh, powdery snow. With over 10 stunningly designed sleighs to unlock, this game offers endless entertainment with a sprinkle of festive cheer.
The magic lies not only in the immersive graphics, but also in the inherent challenge. This game isn't merely about riding a sleigh; it's about testing your skills against a backdrop of snowy landscapes and tricky obstacles. The intense gameplay demands speed, accuracy and exceptional hand-eye coordination to set high scores that you can show off to family and friends. Each exhilarating ride offers chances to collect gifts which can be channeled towards purchasing new sleighs.
The reason why Snow Rider 3D stands out amongst other racing games is its ability to teach gamers to react quickly, while still maintaining strategic thinking. It's more than just a conventional driving game – it's an exciting journey full of twists and turns, filled with anticipation at every corner.
In conclusion, whether you're an ardent fan of racing games, on the lookout for new Christmas games, or just someone who enjoys well-made simulator games, we recommend giving Snow Rider 3D a whirl this winter season! So what are you waiting for? Start your sleigh's engine on this addictive and challenging adventure!
What are the best online games?