Snoring: Wake Up Elephant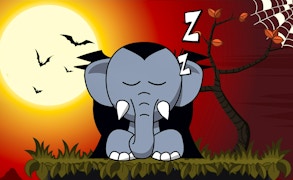 Snoring: Wake Up Elephant
Set your senses into the amusing world of Snoring: Wake Up Elephant, an irresistible puzzle game designed exclusively for kids. This is not just one of those run-of-the-mill animal games, it enables young minds to think logically while having a blast with some adorable wild creatures.
Centering on a sleep-loving elephant who can't seem to quiet his snores, this game calls for our young players to take on the role of various lovable critters with the goal to wake up our slumbering friend. The animal roles aren't just for show, they add a delightful twist to the traditional puzzle-solving mechanics that many games for kids often miss out on.
The visual and auditory elements of this game are charmingly crafted catering to kids' imaginations. The gentle, scenic cityscape of Transilvania, headed by none other than Count Dracula himself, serves as an enchanting backdrop that's sure to captivate young players. And despite the scare-based theme, the game maintains its kid-friendly charm with its cutely designed characters and laid-back puzzles.
Moving onto gameplay mechanics, Snoring: Wake Up Elephant relies on rolling and jumping physics interspersed with intriguing riddles that challenge children's problem-solving skills without overwhelming them. You may find yourself being captivated by how your child devises strategies to roll various animals towards Mr. Elephant in order to wake him up.
The educational value of this animal-themed puzzle game goes beyond entertainment; it stealthily enhances logical thinking and encourages strategic planning among its little players. Who knew learning could be such fun?
A great balance of education and fun, Snoring: Wake Up Elephant is definitely a must-try for every young gamer out there who enjoys puzzles and adores animals. Play right now and let your children embark on a delightful journey they won't forget!
What are the best online games?
TAGS