Snake YO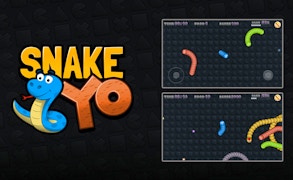 Snake YO
Description
Embark on an exhilarating journey in the top-down arcade-style game, "Snake YO". As a snake, your mission is to devour magical food items to grow in length and strength. Your longevity and score depend on your ability to skillfully outsmart enemy snakes. The thrilling dash feature allows players to perform risky maneuvers that add a layer of intensity to the gameplay. It is a gripping game that promises endless entertainment.
How to Play
In "Snake YO", you navigate through the game using simple directional controls. Consume as much magical food as possible to grow larger. Be wary of rival snakes - colliding with them will end your run. Use the dash feature for quick evasion or aggressive moves against your opponents. The goal is to survive for as long as possible while accumulating high scores.
Tips and Tricks
To excel in "Snake YO", keen observation and swift decisions are key. Always be on the lookout for opportunities to consume magic food and grow larger quickly. Use the dash function strategically; while it may help you escape close encounters, misuse could lead you straight into enemy territory.
Features
Easy-to-master controls for a user-friendly gaming experience
An exciting dash feature that boosts speed momentarily
Engaging gameplay that tests your tactical acumen and reflexes
A competitive score system that motivates players to strive for greatness
Captivating game design appealing to all fans of arcade-style games
What are the best online games?
Tags