Snake io war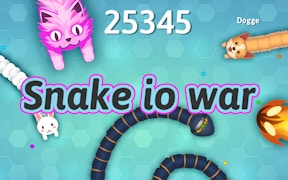 Snake io war
Description
In Snake io war, experience the classic snake game with a modern twist! This enthralling arcade game spices up traditional gameplay by immersing you into an arena, where your objective is to become the mightiest worm. Battle against formidable opponents, consuming plenty of yummies and powerups to aid you in your quest for supremacy.
How to play
To navigate the arena in Snake io war, use your mouse or keyboard arrows. Accumulate mass by eating yummies and power-ups. Survive as long as possible by avoiding collisions with other snakes. Destroy enemies by tricking them into crashing into you, then gobble up their remains to grow exponentially.
Tips and Tricks
Master your movement in Snake io war. Adopt a defensive strategy early on when you're small, avoiding larger snakes. Once you've grown significantly, start offensively targeting smaller snakes. Use your size to encircle enemies, forcing them to collide with you.
Features
Classic Gameplay: Combines the original concept of snake games with modern elements of survival games.
PvP Battles: Engage in exciting battles against other players around the world.
Diverse Power-ups: Collect various power-ups to increase speed, size and survival chances even further.
Vibrant Graphics: Enjoy engaging visuals, bringing a new pop aesthetic to the classic game design.
What are the best online games?