Snake Blast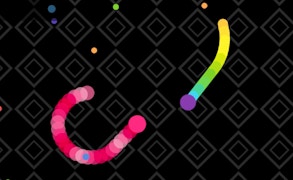 Snake Blast
Welcome to the electrifying world of Snake Blast, an addictive multiplayer epic that transforms the classic concept of snake games and worm games into an engaging real-time battle of survival, strategy, and fun. The familiar premise is simple: eat to grow, avoid other snakes, and climb your way to the top of the leaderboard.
At first glance, Snake Blast may seem like a traditional throwback to those early days of mobile gaming. But peel back that nostalgic shell, and you'll find a refreshingly fun game that demands razor-sharp reflexes and clever tactics. As you navigate through the vibrant arena, your worm-like creature gorges on scattered food items – each morsel consumed amplifies your length and score.
But it's not just a race to become the biggest snake - survival is key. You're thrown into an arena filled with other hungry competitors with only one aim: to be the last snake standing. The thrill intensifies as the screen starts swarming with multi-colored serpents all vying for dominance.
What sets Snake Blast apart from other snake games or worm games is its seamless multiplayer experience, where every moment is filled with suspense and excitement. Other players will try to outsmart you, cut you off or trick you into colliding with them - a fatal mistake that sends your precious points straight into their mouth.
No two matches are ever the same in this adrenaline-rushing fun game. With its unpredictable gameplay combined with vibrant graphics and responsive controls, Snake Blast provides an exhilarating multiplayer experience not to be missed by any gamer looking for a fresh spin on classic gameplay.
In conclusion, Snake Blast transcends ordinary fun games with its exciting blend of strategic play, intense multiplayer competition, and nostalgic charm - it's a compelling digital feast fit for casual gamers and hardcore strategists alike.
What are the best online games?